The world's biggest expansion of maritime broadband communications is coming with Inmarsat launching a new constellation of satellites
Inmarsat will invest in six new Global Xpress (GX) satellites and two payloads on elliptical orbit satellites over the next four years to significantly enhance ship communications. This will be the biggest addition to global maritime communications in a decade and expands Inmarsat's broadband into the Arctic.
This expenditure is in response to fleet managers requesting data packages of more than 1 terabyte (TB)* per month per ship, says Inmarsat Maritime president Ronald Spithout.
"We need to add satellites to increase throughput and flexibility," Mr Spithout tells Maritime Digitalisation & Communications. "We will be going from four satellites to 12 in four years."
Ships can use the Ka-band connectivity in GX through Fleet Xpress (FX), combined with Inmarsat's L-band FleetBroadband.
"We are making fully connected vessels a reality for owners' cost savings, smart maintenance, ship-shore connectivity, enterprise resource planning software and for sharing data with charterers," says Mr Spithout.
Increasing data use for ship and onboard systems' performance analysis through Fleet Data, and crew requests for social media access, is driving bandwidth and data package growth on ships.
"Where we were coming from ships having 5 GB a month [five years ago], now some vessels need 1 TB per month," Mr Spithout says. "We have more than 7,000 vessels on FX and, on average, they are consuming 270 GB of data per month." He expects this will double in the next six months.
"This confirms connected vessels are coming into play with crew and business applications driving demand," says Mr Spithout. This is why Inmarsat ordered new GX satellites.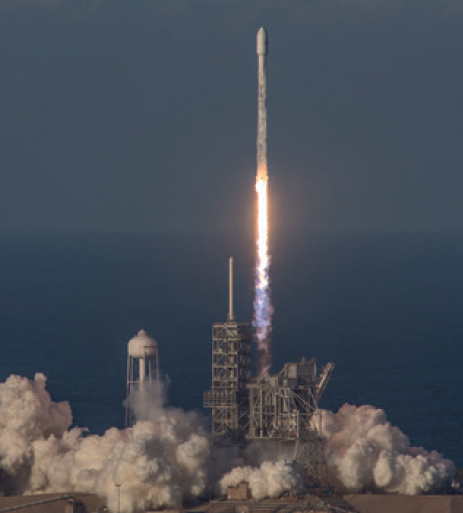 One satellite (GX5) is scheduled for launch in Q4 this year, followed by two (GX6 and GX7) as part of the Inmarsat-6 constellation in 2020-2021.
In June, Airbus Defence & Space won a contract to manufacture three Onesat satellites – GX7, GX8 and GX9 – with the first due to be launched into geostationary orbits in H1 2023. In July, Inmarsat announced that two GX payloads (GX10a and GX10b) would be loaded on to Space Norway's Arctic Satellite Broadband Mission satellites manufactured by Northrop Grumman Innovation Systems and launched into a highly elliptical orbit.
"The Airbus Onesat satellites are revolutionary in design," says Mr Spithout.
"They are completely software-operational with the size and movement of their beams and throughput over the beams managed using software."
Beam throughput and positioning will be dynamic so beams could follow an individual ship or fleet. "Over one day a beam could be over Rotterdam and then moved to another port," says Mr Spithout.
GX10a and GX10b on Space Norway satellites will extend GX into higher latitudes than Inmarsat could reach otherwise.
"Connectivity in the Arctic region for the maritime industry is growing in importance as merchant, fishing and cruise ships transit new high-value waterways," says Mr Spithout.
"This enhancement is fully backward compatible with our existing FX hardware and will strengthen coverage over the Arctic."
Rising fleet additions lifted GX revenues by 85% to US$251M in 2018, compared with 2017.
Source: maritimedigitalisation